Beyond the Ordinary Tours- Spiritual Journeys- to the most sacred and spectacular sites in China & Tibet
Dao of Well Being Tours presents "The Journey of a Lifetime...a Life Changing Journey"


China & Tibet Dream Tour
Journey to Shangri-La

September - 2019
Join us for the adventure of a lifetime - a timeless journey - of connecting with ancient cultures, authentic wisdom - hidden kingdoms - peace and serenity, beyond the fast pace of our modern world.

Our China and Tibet Dream Tour is the Journey to Shangri-La. The imaginary land depicted in the novel Lost Horizon by James Hilton has become synonymous with a remote, beautiful, imaginary place where life approaches perfection. Some say that it can be found in sacred Tibet. Others say it is in the hidden valleys of SW China, in the ancient kingdoms and pastoral villages of the Himalayan foothills in Yunnan.
Join us for the journey of a lifetime...a life changing journey!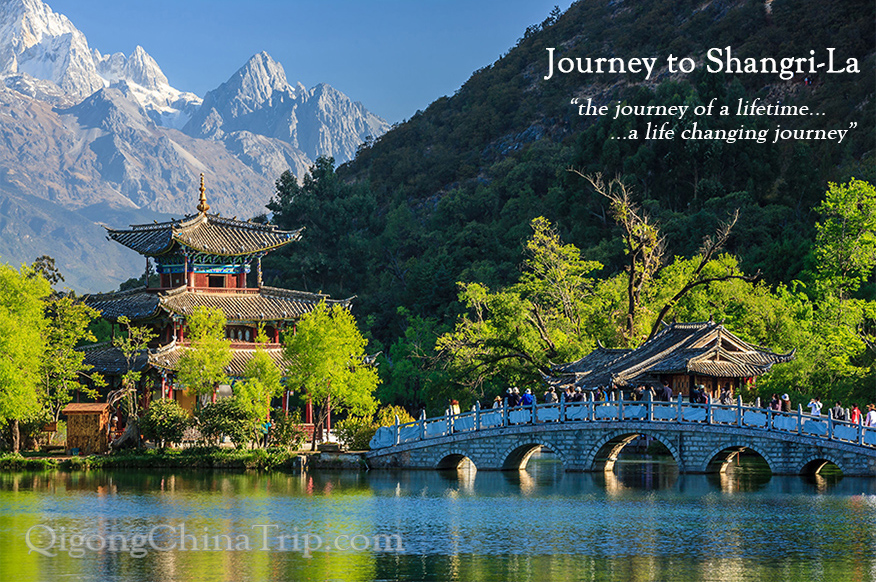 Experience the magic and mystery of Tibet and SW China.

China & Tibet Dream Tour - Journey to Shangri-La 2019 will visit

Chengdu - Ya'an - Shangli - Leshan - Lijiang - Baisha & Shuhe Villages - Tibetan Villages
Including UNESCO World Heritage Sites:
Lijiang Old Town, Panda Sanctuary and Leshan Giant Buddha
Some say the Journey to find Shangri-La is the most rewarding adventure you will ever make. And once you have fond it - then you may discover it anywhere - in a cup of cafe latte or yak butter tea - or in your own heart!

Mark Johnson and Rebecca Kali will personally lead this tour. We have over 40 years of experience in sharing our passion for China's incredible heritage and cultural sites and teaching Tai Chi, Qigong, Meditation, and Taoist Inner Alchemy - Neigong Practices. A friendly relaxed atmosphere, comfortable lodging, excellent cuisine, and personalized care are hallmarks of our tours.

return to Qigong China Trip home page
Dao of Well-Being - China Dream Tour - Tai Chi and Qigong China Trips
PO Box 750
Ely, MN 55731 USA
phone: 1-800-497-4244 phone: 218-365-6330
home photo galleries contact us